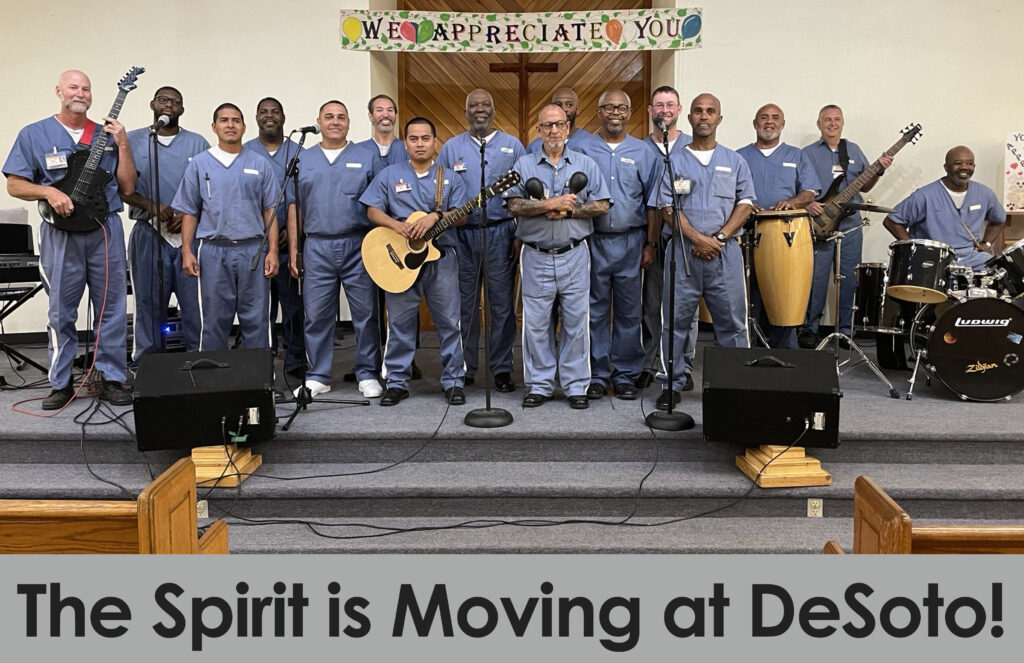 The Spirit is Moving at DeSoto!
Recently we received a letter from Matt Sackett thanking our congregation for our generous donations to support his prison ministry at DeSoto. The Holy Spirit is doing great things for and through the men who worship and learn there. Let's continue to pray for and support Matt and his fellow inmates who are seeking and finding Christ in difficult circumstances. Matt's letter is copied below.
Thank You! These were the first words that come to my mind, my heart and the first words that actually came out of my mouth to my Dad on when he told me what God has done by your gifts. Your giving has not been in vain. I write this letter to say Thank You letter, and also am sending some pictures to go along with the letter so that you could put some faces to the beneficiaries of your blessing. Bible Study has been going great and the music that we have been playing since starting the Bible Study has really been anointed. I know ifs because of what God is doing through His Word. So you may ask what are we study right now; Fellowship, Discipleship and Friendship. Fellowship comes naturally in our small group, but it also comes from consistency. You may not understand completely, but prison is a difficult place to have consistency and we face obstacles each week with movement on the compound, but we have been overcoming this by consistency … Last week we discussed the Scripture Luke 10:2 Therefore said He unto them, "The harvest truly is great, but the labourers are few: pray ye therefore the Lord of the harvest, that He would send forth labourers into His harvest." KJV One of the brothers on the team named Chris, prepared a short sermon entitled "􀀛ow What Vehicle You're Getting Into." The basic theme highlighted that when we decided to follow Jesus we got into an Ambulance, not a Mustang, Limo, Porsche (fill in any nice vehicle), but an Ambulance. Most ofus came to the Faith in the back of an Ambulance with someone helping us recover our lives, and by the Grace of God, we are now hopefully helping someone else find the "Helper" we found in us. This world is not getting any better, but God is faithful to those who rely trust and adhere to His Word. We hear the world saying, "Stay in your own lane." We see it everywhere in business, at home, and even in our entertainment, but it should not happen in the church even there it has slowly crept into church life. When an emergency is happening what lane does the Ambulance, stay in? It drives where it needs to go, not always where it wants to go, but when the other vehicles hear the sirens blaring, they get out of the way. Our Praise Team is working on saving those who have been taken captive by this world and we need all the hands we can enlist to get our job, "The Great Commission" done. One last thought about the Team in an Ambulance. They all have a job and each one is not more important than the other. We as a family really need to get this into our hearts. The best title that any child of God can ever have would be that of servant. Matthew 25:23-24 'Well done, good and faithful servant. You have been faithful over a little; I will set you over much. Enter into the joy of your master.' ESV We pray that you are all blessed and highly favored. One of the blessings that we now provide for the compound is to pray for them. We have a prayer board that hangs on the wall in the Sanctuary and it gets filled up every week. Every week we raise them petitioning prayers to God with our requests during our Bible Study. This is just one more way that we make a difference where we live. It is not our Location, but our Destination, that matters the most. Thank you again for all that you have contributed to our ministry here at DeSoto.
ove never fails- Servant Leader Matthew Sackett