Growing Together in Faith
At LCC, we see ourselves connected to Jesus, our Lord and Savior.  Part of our purpose is to help everyone experience that same connection and to connect with others on that journey as well.  
We have educational opportunities for adults, youth and children in addition to our regular worship.  Before and after our service, join us on the coffee patio and meet the people who worship with you in the pews.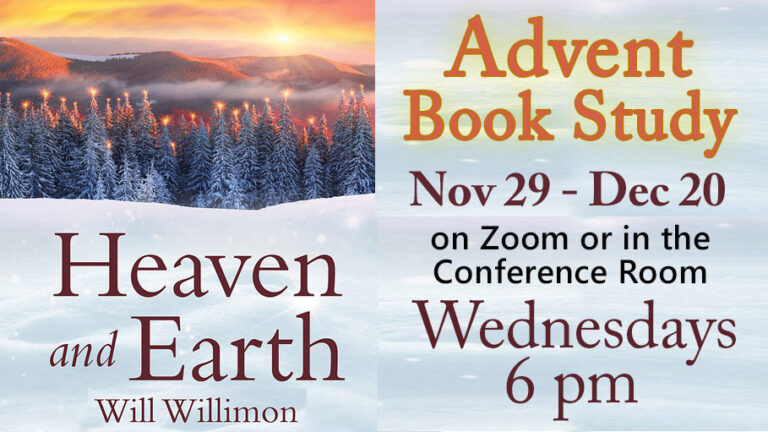 ADVENT BOOK STUDY 2023
This Advent we will be reviewing Heaven and Earth: Advent and the Incarnation, a book that is
a study of what Advent is and how it can make Christmas more meaningful. This study is unlike
our last several studies that focused on the nativity story. Instead, through our December worship
readings, Will Willimon focuses on the ever-transforming reality of a God that comes for us.
Willimon invites us to explore how in Advent we learn to make and keep time differently from
our world. Advent is about "how God takes time for us."
Our Wednesday night sessions starting November 29 will include a short video, review of a
chapter and discussions. You do not need to purchase or read the book to participate because the
video will give you enough to engage in sharing. Books will be available in the office and
narthex for a suggested donation of $15. eBook versions are readily available for Kindle and
other formats. Willimon's book is also widely available for purchase through several outlets.
Here are some reviews:
"Willimons voice bears witness to the in-breaking power of the God of Advent, the One we
didn't expect. With attention to the biblical text and our world, Heaven and Earth invites us to the
wonder, mystery, and joy of encounter with God incarnate who shakes us up, reorders the
cosmos, offends our sensibilities, and saves us with relentless love."– Joni Sancken, Professor of
Homiletics, United Theological Seminary
"Finally, an Advent study that ventures beyond the sappy sentimentalism of personal piety at
Christmas, and challenges us to take a fresh look at the earth-shattering good news of God
entering our world, which disturbs as it heals. Prepare to be taken on an unfamiliar route through
a familiar story to experience God-With-Us, here and now."– Dr. Bankole Akinbinu, Baptist
Grove Church, Pastor