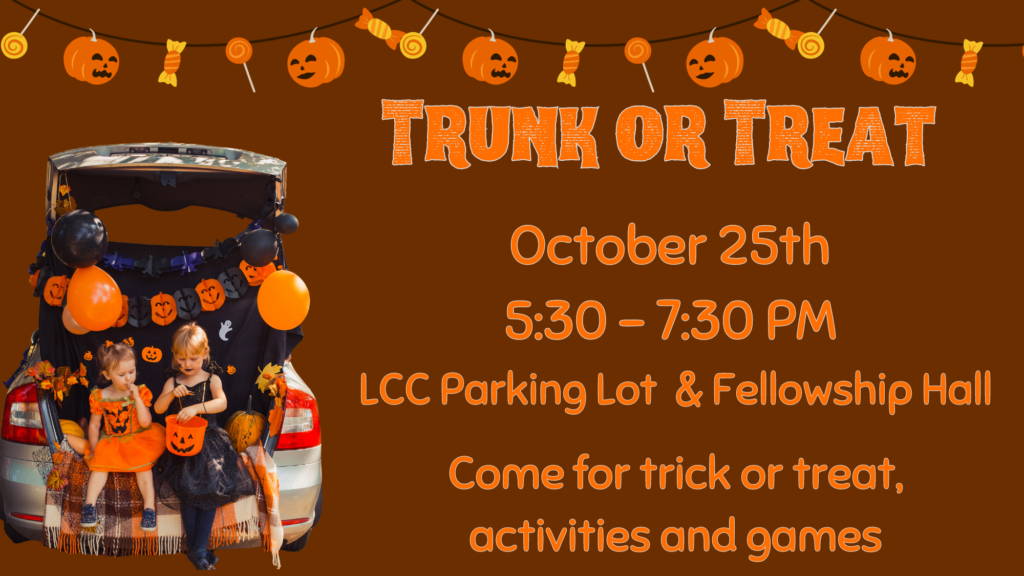 Trunk or Treat Returns as Joint Event for Church and Day School
We are excited that we will be having a joint event hosted by our LCC Day School and the church on Oct. 25th, Wednesday. Many have asked when we could do a Halloween activity again and had missed former Fall events that the church had hosted. The joint leadership from church and school has allowed us to offer something again that we can all wok on together. The event will be from 5:30 to 7:30 pm on a Wednesday night to accommodate staff and students at the Day School.
The Day School staff, specifically the Pre-school faculty, will be in charge of the trunk or treat in the parking lot. Many teachers are excited to come with their cars and participate. Our church will be responsible for the Fellowship Hall snacks and activities inside. As our Early Childhood Director, Katy Davis will coordinate the details outside such as sign-up slots for cars and candy
distribution. Lori Bell, our Student and Family Coordinator, will organize the inside activities in the Fellowship Hall.
There are several ways that you can get involved in this fun event. You can sign up for a slot for your car or truck and hand our candy. People are invited to decorate the back of their car or set up a pop-up tent with decorations in a parking space to hand out candy. This will not be a drive- through event, like we did during COVID two years ago, but kids and parents will walk through the car spaces in front of the Pre-School and Portico. There will be a sign-up link provided soon for the available slots.
You can also participate by volunteering to help Lori in the Fellowship Hall. Likely activities include decorating mini-pumpkins and games. We could also use a few to help with refreshments and snacks.
Finally, you can donate candy so that those who are handing out candy from their trunks don't have to buy all the candy themselves. There will be candy donation boxes soon in the church for dropping off store-bought, individually-wrapped candies, snacks, or small items for handing out. We hope this year's joint endeavor with the LCC Day School is the pattern for many joint events to come. Please consider helping out in any way you can.