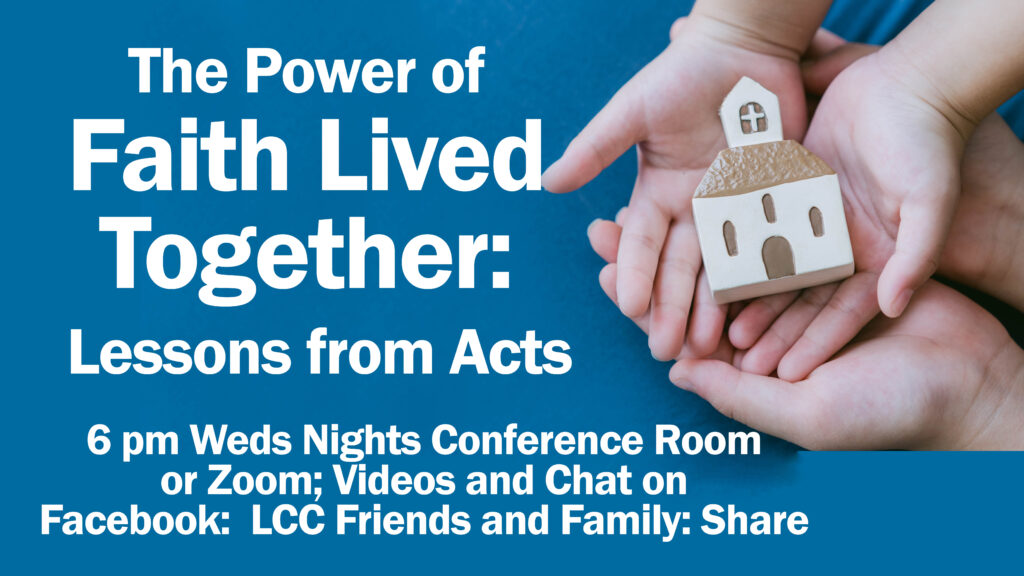 The Power of Faith Lived Together: Lessons from Acts


In our changing world where church as a faith community is changing, the New Testament book
of Acts provides interesting stories for reflection on what church is and why it is so important.
Acts provides stories of the early Christian communities which were very small and faced a
culture that was hostile to them, yet they grew at a phenomenal rate and laid the groundwork for
Christianity as a world religion.
Pastor Bruce invites you to reflect on the lessons we can glean from Acts as we face what church
means for our changing culture where church attendance is no longer the norm. This less-studied
book may provide hope and insight for us to understand the power that comes from living,
sharing and working within a Spirit-filled, faith community.
We will meet in person, onsite or online, on Wednesdays at 6 pm either in the Conference Room
or on Zoom. Our study will start September 21 and run until Thanksgiving week. We will use
our private Facebook group, "LCC Friends and Family: Share" for posting materials. Videos of
lessons, background materials and readings will be available on Facebook as well as providing a
place for us to comment and dialogue. By using LCC Friends and Family: Share, you can follow
along and join in the study even if you can't meet every or any Wednesday night. Please contact
Pastor Bruce for more details. Call the office if you're having trouble joining the Facebook group to participate. Remember, Friends and Family Share is open to all, but you must request to join since it is a private group.
Take a picture of the QR code (below) to join the Facebook Group