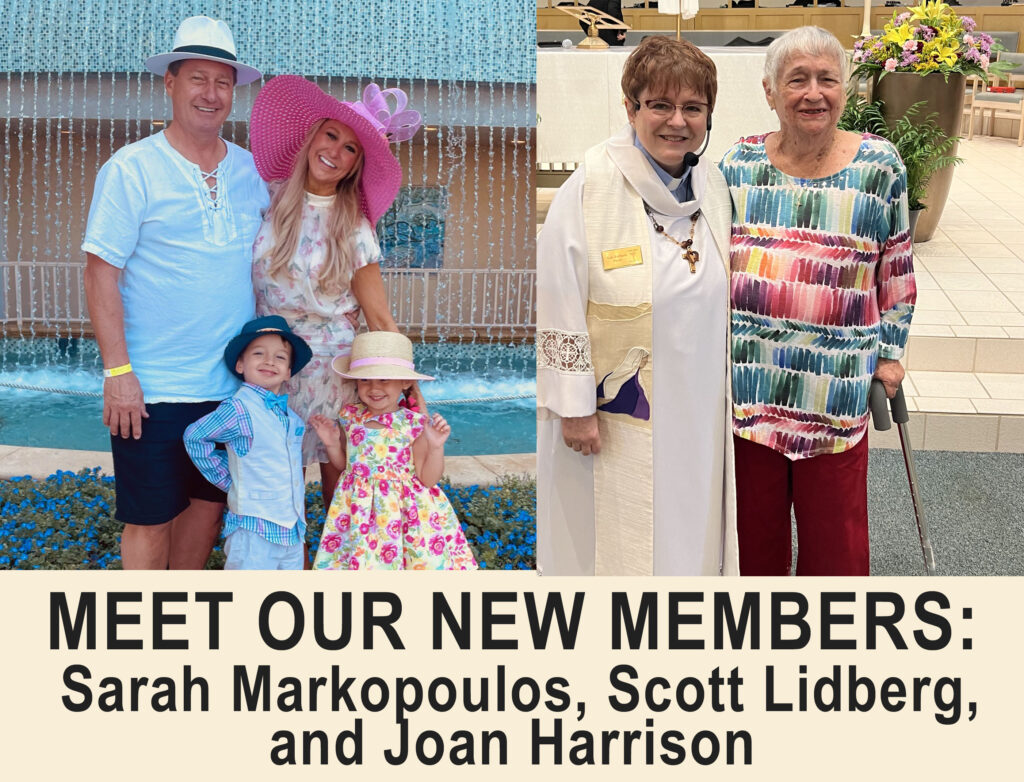 The Lidberg-Markopolous Family
Meet our family, Scott Lidberg, Sarah, Melina & Angelo Markopoulos. Scott was born in Texas, grew up in Minnesota, and moved to Florida permanently in 2018. He enjoys boating, golf, cooking, and spending time together as a family. Scott works in the sustainable building materials industry.
Sarah was born & raised in Wisconsin, moved to Florida in 2005. She enjoys reading, photography, architecture, scrapbooking, & quality family time. Sarah works in the St. Petersburg Real Estate market.
Melina & Angelo are twins, and were born the day after Christmas in 2016. Melina enjoys arts & crafts, animals, helping in the kitchen, and all things girly. Angelo enjoys cars & trucks, Legos, playing board games, and arithmetic! Some of their favorite family activities include planting herb & vegetable gardens, swimming, mini-golf, bowling, being outside, and all things seasonally festive! They're very happy to be part of the Lutheran Church of the Cross family. 
Joan Harrison
Joan is a real "firecracker," having been born on the 4 th of July in 1938! And her personality certainly fits her birthdate, as she is a funny, genuinely kind person that you definitely want to meet. She found LCC through her dear friend Nancy Pethe, who is like family to her. Nancy mentioned to Pastor Lisa that she helped out a shut-in who wanted to receive Holy Communion, and that's how Pastor Lisa came to start visiting Joan. Joan is the first on-line only worshipper who has now joined the church, and we are happy that she has been able to sometimes worship in-person too.
Joan is a native New Yorker who now lives in the Mainlands, where she keeps Nancy and the entire Pethe family on their toes. She enjoys reading, visiting with people, and animals. In fact, she even kept a "pet" lizard for a while in her home! Chester was her occasional companion until eventually he went the way of all lizards and crossed the Rainbow Bridge. Joan has had some health and mobility concerns which have kept her as a mostly online worship attender, but we are thrilled to have her with us, however she does it!