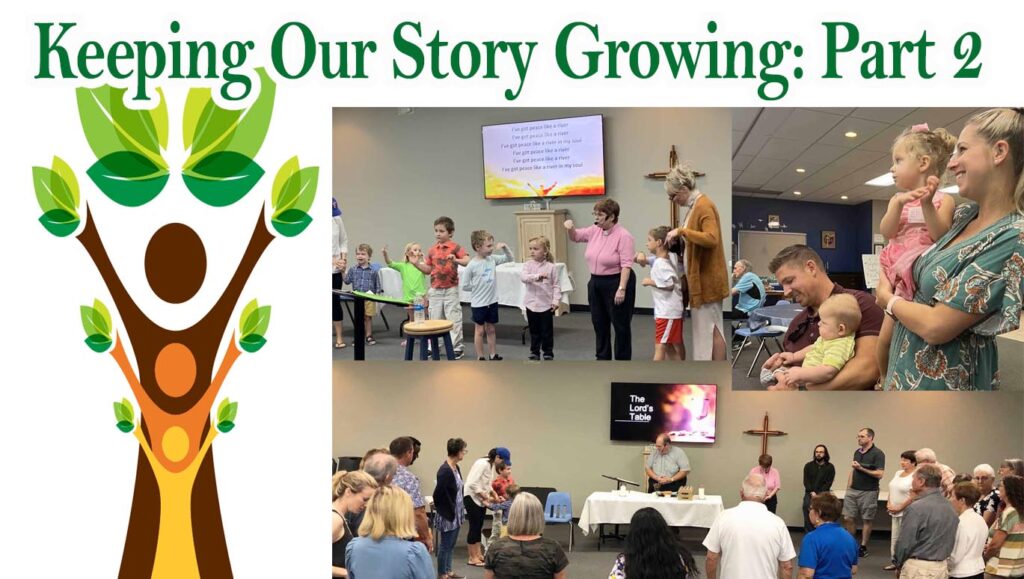 In a rapidly changing world, we are growing together by expanding our worship to reflect the diverse needs and preferences of our community. While traditional services continue to hold a special place in the hearts of many, and we will continue to honor this by offering that type of worship, we sensed a need for a fresh and dynamic approach that meets the needs of our members who prefer a more informal, intimate and energized worship experience. Particularly we were hearing from our young families that they wanted a place where they and their children could worship together that felt designed for them.
In response to this, in September 2022 we launched our contemporary worship service. What started as a handful of worshippers has blossomed into a service in which we regularly gather with at least 30-40 people. Those who attend are seated around tables in Fellowship Hall where they may enjoy coffee, juice and various types of snacks. Children are encouraged to be themselves, coloring the sheets on the tables, working on crafts and even dancing as the Spirit moves them. Our second service is also interactive – conversations between the pastors and the congregants during the sermon is not uncommon. In fact, in a time we call God Moments, we invite people to share where they have seen God at work in their lives in the past week. And then there is the music! The praise band is comprised of talented musicians who help us lift our hearts to God. Our drummer Frank and guitarist Tommy often add their own comments during worship, helping us think of things in different ways.
Pastor Bruce and Pastor Lisa's approach to preaching is very different in this service. Messages are designed to be interactive and applicable with today's issues. In fact, the entire worship experience is designed to challenge and comfort people with the eternal truth of the gospel in the light of a world that is ever changing. This led the pastors to invite participants to write down their prayer concerns on slips of paper that are collected and prayed over during worship.
So for those who are looking for a more informal approach that encourages families young and older to experience God together, join us at 10:30 Sunday mornings in the Fellowship Hall.