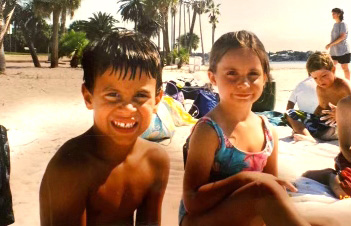 Last Sunday as we honored our graduates you may have noticed that recognition included two people who were awarded doctoral degrees in Physical Therapy from the University of Florida.  But the story goes back a lot further for these two who grew up close together in Venetian Isles and attended Lutheran Church of the Cross.
Jessica Silk and Matthew Mainelli first took class together as four-year olds in Denise Maxwell's pre-school class at LCC Day School.  The picture above is of their year-end graduation party at the beach.  Though they went separate ways through grade school these former LCC pre-schoolers ended up both getting into the highly competitive Physical Therapy program at the University of Florida after their baccalaureate programs in Applied Physiology and Kinesiology also at UF.  After a small preschool class together, they were often in the same classes in a program with a graduate class of a little over seventy.
We wish these two LCC members, baptized the same year at our church, and later classmates in preschool and doctoral studies, the best as they begin their healing ministries.  And we also credit the strong foundations and ties forged at our Day School and church and the contributions of both their families, still active in the ministry of this church.