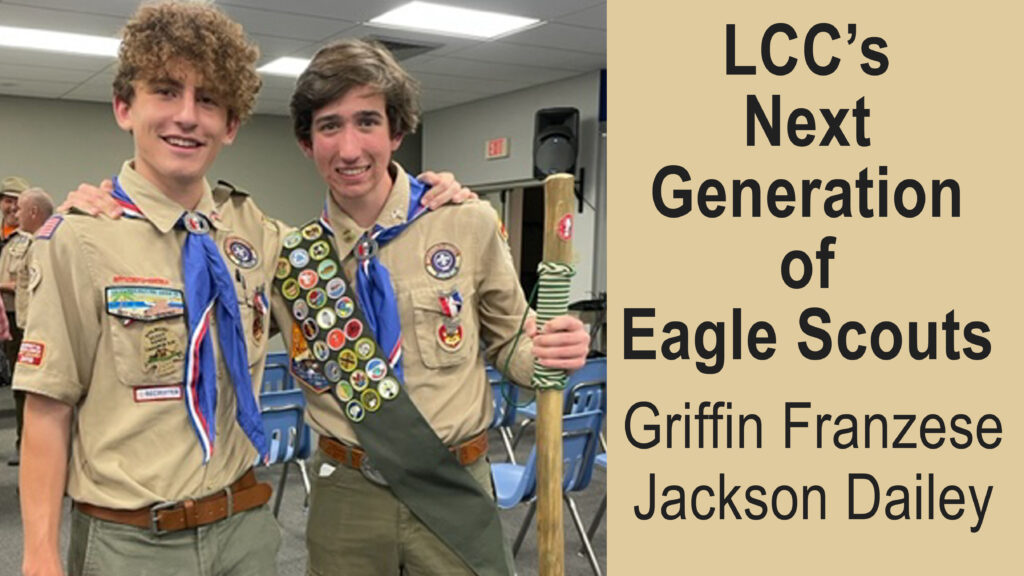 Our church has certainly been blessed by having two young men awarded the Eagle Scout honor within the past two years.
Eagle Scout is the highest rank achievable in the Boy Scouts of America. Since its inception in 1911, only four percent of Scouts have earned this rank after a lengthy review process. Requirements include earning at least 21 merit badges. The Eagle Scout must demonstrate Scout Spirit, an ideal attitude based upon the Scout Oath and Law, service, and leadership. This includes an extensive service project that the Scout plans, organizes, leads, and manages. Eagle Scouts are presented with a medal and a badge that visibly recognizes the accomplishments of the Scout.
It was just two years ago that Griffin Franzese was awarded his Eagle Scout honor. Griffin's project was to coordinate, publicize and manage a collection of hygiene products for the St. Pete Free Clinic. He'd heard about the clinic from volunteering with them before in his Boy Scout troop and from family members who had worked with them before. In fact, this was not his first effort on behalf of the Clinic. A couple of years prior to his Eagle Scout project, Griffin did a food drive with another food bank connected with the Clinic, so that's how he heard about all the benefits that they brought to our community outside of simply food.
Griffin decided to focus on hygiene products, especially feminine hygiene products, as his collection goal because the Clinic indicated that was what the populace they served most needed. Five barrels of these items were filled at LCC, as well as about $1,000 of financial donations.
Griffin coordinated the efforts of 30 volunteers (youth and adults) from the Boy Scouts who went around the neighborhood promoting the drive with flyers and door hangers. Griffin mentioned that Chris Dailey and his son (and fellow Eagle Scout) Jackson Dailey were among those who helped, but he also stressed that his Temple Talks inspired other church members to reach out to help too.
To see the project through to completion, Griffin drafted proposals, filled out fundraising applications and got approval from the board. But he especially enjoyed putting it all into action, delivering the barrels to the Clinic, and conferencing with his Scoutmaster before and after the fact.
"It was a pleasure to help our community," Griffin said, "and I'm so thankful that the church gave me this opportunity for an avenue to get the project on its feet!"
Fast forward two years to the awarding of the Eagle Scout honor to our latest youth to achieve it, Jackson Dailey. Jackson was awarded his Eagle Scout honor in a ceremony at LCC on March 18. Jackson earned the rank of Eagle Scout in three years.  Balancing school, church and sports is a full-time job.  Adding on all the work it takes to earn Eagle in three years is quite an accomplishment.
Jackson's project was to complete the installation of a Gaga Ball Pit and artificial turf for the LCC youth. Located in the fenced area near the Fellowship Hall, the project, which was completed last August, involved the efforts of Boy Scout Troop 219. Jackson also had to draft the proposal, apply for funds and get approval from the board. We look forward to using the Pit in growing our youth ministry.
Last summer, Jackson and his dad took many members of the troop to Philmont Scout Ranch in Cimarron New Mexico.  At Philmont, the men backpacked more than 100 miles while being totally off grid. Philmont is an amazing place and it really teaches a young man to be self- sufficient, since there are no stores and no internet.
Both of these young men are to be congratulated for their leadership and contributions to making our community and church such great places to be.