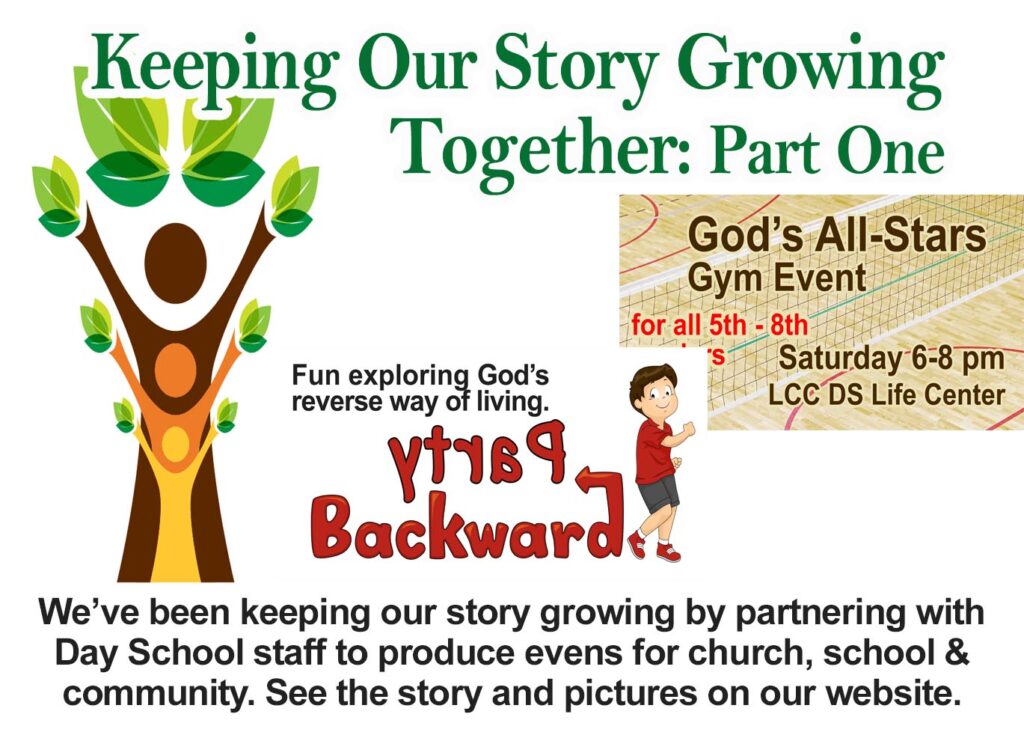 How do you grow a church? One story at a time.
Now of course I don't mean a multi-floored building, (although we'd love to grow our numbers so much that we'd need that). Rather, I mean that as more and more people come and share the stories of their walk of faith, our church as a whole grows, not just in numbers, but in witness to our community.
One way we are doing that is by the events we are putting on for the children. We've had several events already this year, and more are on the way. We are growing our story by engaging more with our Day School partners, church members and our community. Our Youth and Family Coordinator, Lori Bell, now works with Day School faculty and staff for our youth events.
In September we hosted a Backwards Party for our elementary age friends. Lori Bell, assisted by Dani Mishall from the Day School and Heidi Kubicki, created a really fun night! Kids from age K-5 had a wonderful time doing everything the opposite of what you might expect. They drew on paper with their feet. They wore their shirts backward. And they enjoyed upside-down banana splits UNDER THE TABLES!
For our older kids, we hosted an open gym night with a mini-volleyball tournament. Coach Pennell and Dani Mishall from the Day School, together with Lori Bell, coordinated this event which featured "special" dodge ball and kick ball games. They were "special" because they were designed to be deliberately unfair in order to demonstrate to the kids that in God's eyes, "the last shall be first." After Pastor Bruce explained this in the devotional lesson, the middle schoolers then participated in a spirited volleyball tournament, with Team Metallica winning the championship. But all went home with medals and smiles, because in God's grace, we are all winners!
Registrations for both events were full, at 25+ kids for each.
Watch for coming Halloween-themed events in October, including pumpkin decorating and Trunk or Treat. Just imagine the stories the kids will bring home, sharing how you can learn about God and have a great time doing it!