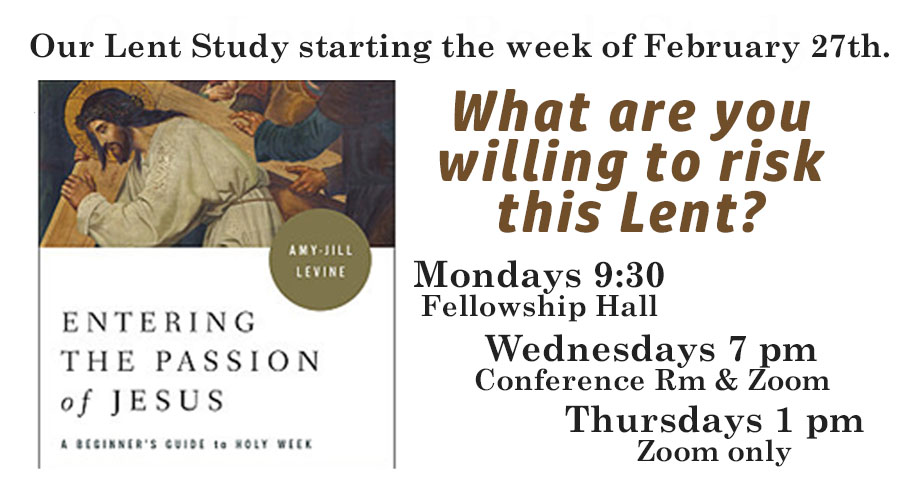 Amy-Jill Levine has written a book to show us the risks, challenges and choices Jesus had to make in the week leading up to his crucifixion.  She wants to help challenge us to see these stories as choices and then consider those choices for our lives.  See looks at the different accounts of Jesus' Passion in the four gospels, and helps us understand what he risked and gave up for us. 
From the Abingdon Press website, "Jesus risked his reputation when he entered Jerusalem in a victory parade. He risked his life when he dared to teach in the Temple. His followers risked everything when they left behind their homes, or anointed him with costly perfume. We take risks as we read and re-read these stories, finding new meanings and new challenges.  She shows us how the text raises ethical and spiritual questions for the reader, and how we all face risk in our Christian experience."
Amy-Jill Levine is a New Statement professor and scholar and also Jewish.  She brings her knowledge of New Testament times and Jewish experience to help us understand the Passion stories of Jesus from a new perspective.  Her study is written for those who have never studied the Passion story and those who have studied it many times, trying to give fresh insights to both.
The study includes short videos for each of our weekly sessions over five weeks. The book is not necessary for our study sessions, as most people are familiar with the stories we will be covering.  For those who want to study the book, used copies are readily available online as well as eBook versions.  The church has purchased some copies that available in the office or the narthex for a suggested donation of $13. 
Sessions will run starting the week of February 27th and running through the week of March 27th.  You can join discussions either Monday mornings at 9:30 in the Fellowship Hall, Wednesday nights at 7 pm either in the Conference Room or on Zoom, or Thursday afternoons (only on Zoom) at 1 pm.