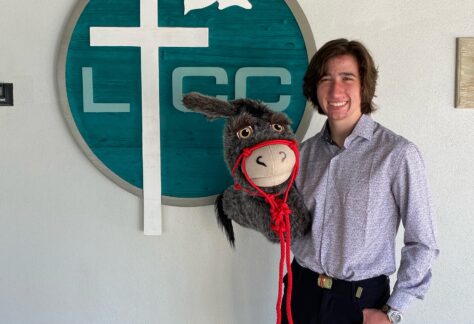 Last Sunday during worship, LCC honored Donkey Trainer and Handler Extraordinaire Jackson Dailey as he took over the reins of the beloved puppet and led him out to pasture.

Since the days when Donkey was just a foal, Jackson and Donkey have delighted children of all ages. Jackson was in third grade when he started participating in puppet ministry at LCC under the direction of Cheryl Barnes. He did this for the next three years. The puppet shows were held in the Sanctuary around six times a year. This would serve as the children's message.  The kids would practice the script with Cheryl for a few weeks (during Wednesday night children's time), and then the performance would be during service.   The kids participating were 3-5th graders.

Once Cheryl left LCC, the Puppet Ministry stopped. Then Pastor Benoway asked Jackson about making an advent promo as Donkey. Once COVID started, he then began doing the puppet ministry during the Children's Message with Kristen Hitchcock. Kristen would write the script format, and Jackson would add humor and his unique personality to the messages. After working together for 6 months, they had figured out a natural rhythm and cadence. Later, Donkey trading cards that highlighted Donkey facts and Bible verses surrounding special worship Sundays were created to encourage children to come to church.

But all good things eventually must come to an end. Jackson decided it was time for the old fellow to take a well-deserved rest. And so, we retired the puppet and delivered him into the loving arms of his Trainer and Handler. Jackson was also presented with a Certificate of Appreciation and the grateful applause of the congregation. After the service, all of us there enjoyed the Cropper Cake, sharing memories of Jackson's ministry and learning about his bright future.

Thanks again, Jackson Dailey, for this wonderfully creative ministry. And any time Donkey wants to make a reappearance…we'll leave a trail of chocolate chip cookies for him to find his way back.