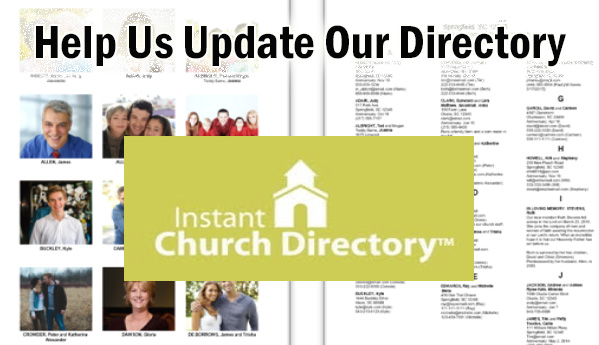 InstantChurch = Instant Church Connections!
Although we've had InstantChurch, our online church directory, for a number of years, one quick look at it will tell you that it needs some updating, so we need your help to relaunch and maintain the information.
Why do we not just produce another professional hard directory? 
Two reasons: 
First, about a day after it is printed it can become obsolete. People change their contact info all the time, so with an online directory, updating is a snap. Not so with a printed version.

Second, InstantChurch is with you wherever you are. Need to know a member's phone number while you're on your way to the church? Just a few taps on your InstantChurch phone app will give you the information you need, on the go. You can use InstantChurch on your tower computer, laptop, tablet or mobile phone, and it is available for Windows, Apple and Android.
Why have a directory at all? 
New members and long-term members alike can communicate with each other more easily when we all have access to the same information.

Photo directories help people figure out other people's names.  Most of us don't want to admit we can't remember someone.  Plus, you're all so good looking, we'd love to have your photos!
Is an online directory safe and private?
Only those admitted and checked by our staff can access our online directory.  The access 

is tied to your personal email and password.  
If you want certain information only available to office staff (cell number private, landline public), indicate that on the form.  Our church database is separate from Instant Church and has different firewall levels with graded access for different people.  We will 

update our church database from these forms, so please do include information you don't 

want public so we have private mobile numbers or emails for emergencies.   
We  are updating our data across all our databases.  We want to be able to reach you and provide you accurate information.  We also want to educate people about how to get it and use it. 
First step is for you to fill out the LCC Directory Form with the hard copy available at church (in worship or the office) or go online here to fill it out:

https://forms.gle/dpXQeu1Bepj5VmJM7

Turn in the hard copy form with a headshot picture at church

If you fill out online, please email a digital headshot picture (with your names) to

office@mylcc.com

.
If you don't have the InstantChurch app, do the following:

For iPhone users, download the app from the App Store

For Android phone users, download the app from GooglePlay

For PC users (tower, laptop or tablet), download the from the InstantChurch website at

https://members.instantchurchdirectory.com/

For any of these platforms, you will be asked to create a login. Here's how:

Click on the

Create Login

button under: First time signing in? 

Enter the email address as it is listed in the family portion of the directory. 

Create a password. The password must be 8 characters long and contain at least two of the following special characters: capital letters, numbers or symbols. 

Retype the password to confirm it and click

Request Login

. 

Check your inbox for an email from service@instantchurchdirectory.com. 

To complete the sign-up process, you will need to verify your email address by clicking on the link sent to you in that email. 

Once you confirm your email, you may sign in at members.InstantChurchDirectory.com. 

Your email with the password you created will work on all the Instant Church Directory apps on any device 

Even if your current information is correct, we would still like you to fill out a paper form or an online form for our LCC Directory Form. 

If you need additional help or have any questions, please contact the office.
When and how can I get this directory?
Please give us time to collect and update the information online.  

Once we have completed the campaign, the office can print out a paper copy if you 

are not able to do so yourself.   
Click the button below to access the website. 
Download the App by clicking on the buttons below.