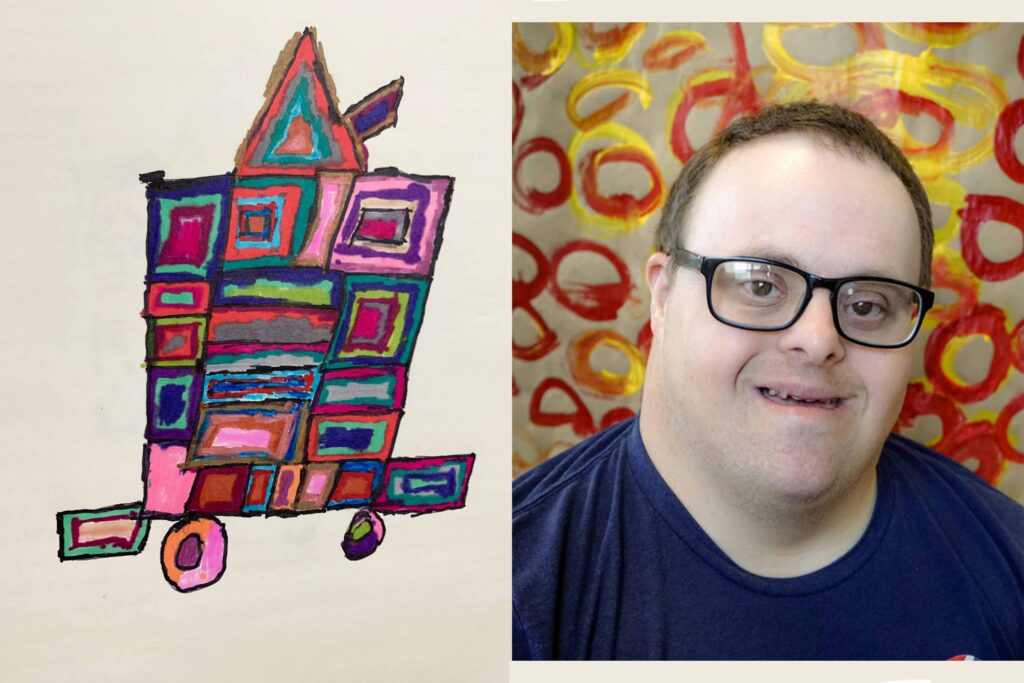 LCC has many talented people who worship here, and among them is our own Artist-in-
Residence, Kevin Hewell.
Since 2000, Kevin has been honing his gift for art at Creative Clay, whose mission is to help
people with disabilities achieve full and inclusive lives by providing expressive, educational and
vocational experiences in the arts.
He attends their Community Arts Program, where he specializes in art produced with markers,
Sharpies, colored pencils and sometimes even paint.
Kevin has created many beautiful pieces, including one hanging on the wall of Pastor Bruce's
office. Several of his designs are bold abstract geometrics, while others are of Christmas scenes
and creative representations of himself and his family.
When asked where he gets the inspiration for his works, Kevin said, "the ideas just pop in my
head."
His mom Bette Hewell credits Creative Clay with doing more than just developing budding
artists. She says that the program helps them in many other ways too. "People who weren't
very verbal before are now drawn out by the interaction with other artists and the staff," she
says.
Kevin agrees that the socialization he gets there is hugely important to him. "The best thing
about it is my friends and the teachers," he says.
The artworks of Kevin and his fellow artists are on display at Creative Clay and are available for
purchase. Creative Clay follows the model of a typical art gallery. Fifty percent of the sale goes
to the artist and 50% back into Creative Clay's programs. You can view and purchase items on
their website at https://www.creativeclay.org/shop-artwork. To find Kevin's work, type Kevin
into the search line at the top of the screen. You can also purchase a beautiful zipper tote that
features Kevin's design at https://www.redbubble.com/i/pouch/Abstract-by-Kevin-H-by-CreativeClayArt/41213944.440R3?asc=u.
LCC is proud to have this wonderfully talented artist to inspire creativity in all of us.